Pet Hair Cleaning
Back To Our Services
If you're a homeowner looking to get rid of pet hairs once and for all, we provide our technicians with eco-friendly products and industrial strength equipment powerful enough to handle any of your pet-related issues. Don't leave your home in a mess. Our residential carpet, rug, upholstery, and air purification services can help you rid your home of pet hair and other contaminants completely.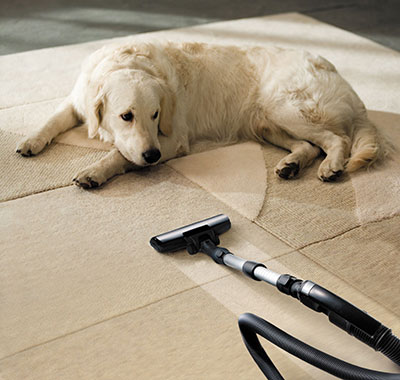 Carpet And Rug Cleaning Services
Regardless of whether your dog, cat or other domestic animal has a propensity to shed copious or small amounts of air, it's important to properly maintain and clean your carpets and rugs. Not only does it make your home more presentable to your guests, but it also prevents subsequent issues related to accumulated dirt, grime, and hair on your surfaces. With proper maintenance and care, you can prolong your carpet or rug's durability. For professional pet hair cleaning, our company offers steam and dry cleaning services. Skilled technicians handle our industrial strength equipment to prevent any damage or problems caused by misuse.
Upholstered Furniture and Sofa Cleaning Services
Consumer vacuums and specialty brushes are often unable to fully remove pet hair from your upholstered furniture. By hiring our services, we can clean your upholstery professionally and save you the problem of dealing with pet stray hair and dander. Pet hair on your sofa or couch is not only an eyesore but can also be a hotbed for contaminants. Our experts can handle the vacuuming, as well as the dry or steam cleaning of your upholstered furniture, without damaging the fabric. Breathe easier by hiring one of our technicians for your pet hair cleaning needs.
Let Us Make Your Home Smell Fresh & Clean!
Dander, dirt and other contaminants may become airborne during the cleaning of your carpeted surface. Our experts know how to get the job perfectly and thoroughly done, meaning we'll make sure to get to the very bottom of every carpet, tile, and upholstered furniture. By getting rid of the hidden dirt and grime, we're also taking care of the odors that often accompany them.
Contact Our Experts for Professional Pet Hair Cleaning
Don't make your home a stuffy one. Contact one of our experts for professional pet hair cleaning. At Carpet Cleaning San Jose, we have the expertise needed to make your home smell fresh & new once again!